Pest Control and Exterminating services in Brooklyn, Queens, and Staten Island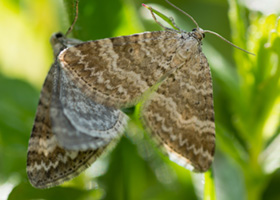 Stop flying pests before they can cause issues at your location when you work with our moth exterminator in Brooklyn, NY. At Abolish Pest Control, we offer a full series of service options for home and business owners throughout the region. Whether you are dealing with pantry moths, closet moths, or another bug species, we have you covered. Speak with us today to learn more about our service options for your needs.
Do You Have Pantry Moths?
If you ever had whitish worms crawling up walls and across the ceiling in a kitchen or food storage area, chances are they were Indian meal moth larvae, one of the more common stored product pests. Eliminate this pest problem as soon as possible when you call in our moth exterminator for services.
For more than 25 years, we have offered top services for everything from ant control [link to Ants page] to moth extermination. During your services, we use pesticides to eliminate the problem. We then conduct a visual inspection to detect any areas where mechanical control can be applied.
Getting to the Root of Infestations of Grain & Closet Moths
How can you tell that you are in need of a moth exterminator? Infestations are often discovered when the full-grown larvae (about 1/2 inch) leave their food source and roam around looking for places to pupate. Grain moth larvae are typically found in any type of grain, nut, fruit, or cereal product. Infested products can include birdseed, peanuts, pecans, dog food, candy, corn meal, macaroni, breakfast cereal, and dried beans. It is common to discover beetles and weevils in the same infested food as the moth larvae.
Prevent the moths from coming back by eliminating the source of the infestation. All potential sources of food for the closet, grain, and pantry moths should be discarded, cooked, frozen, or placed inside an airtight container (Ziploc™ bags are not airtight). When new food is brought into the house, keep this food in airtight containers or inside the fridge for a couple of weeks. After eliminating the food source, we recommend that you contact our moth exterminator to treat your infestation.
Contact us to learn more about the service options from our moth exterminator. We proudly offer treatments for closet, grain, and pantry moths throughout parts of Long Island, in addition to Staten Island, Queens, and Brooklyn, New York.